Layering Guide for Mount Baker

Article and Photography by: Avery Stolte - Alpine Guide for Northwest Alpine Guides
I still clearly remember the first time I reached the summit of Mount Baker (Komo Kulshan). It was early May and there was still a frozen mist to the air, the snow crunched under my crampons simultaneously as the sun began to peak over the mountains in the distance. I was filled with excitement and awe as I looked over the seemingly endless sea of peaks around me. The North Cascades National Park stretched to the northeast, the Canadian range to the northwest, the Olympics to the southwest and Rainer peaked out from the clouds to the south I was almost overwhelmed with the view and the amount of climbing there is in the PNW, I knew then I was in a special place. After spending 43 nights in a tent during my first season guiding, 14 successful guided summits of Mount Baker and 6 unsuccessful attempts, this beautiful mountain is still one of the most breathtaking places to be.
Rising high above the pine and fir trees of the forest floor the sweeping white glaciers of Mount Baker sits within the Mt. Baker-Snoqualmie National Forest just south of North Cascades National Park. This national forest is home to more glaciers and snow fields than any other national forest outside Alaska. The majestic mountain is also one of the famed five volcanos of Washington State that was first climbed in 1866, since then Mount Baker has become a quintessential mountain for climbers from all over the world and one of my favorite places on Earth.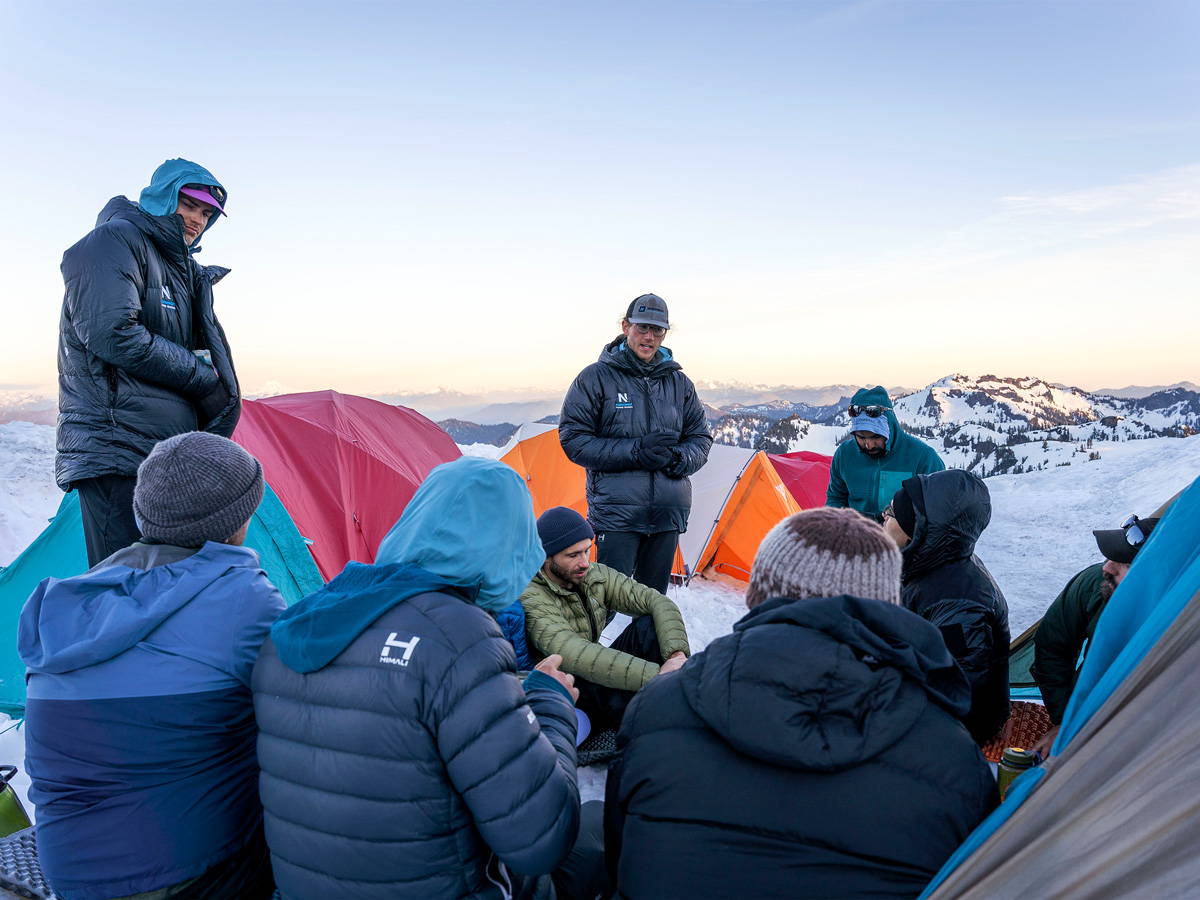 "The weather on Mount Baker is no joke."
Working as an Alpine Guide for Northwest Alpine Guides I spend my summers working on Mount Baker with climbers from all over the world teaching mountaineering skills and going for summit attempts. I love Baker because of its friendliness to all types of outdoor enthusiast; from day hikers to backpackers, mountaineers, and skiers the Mt. Baker-Snoqualmie National Forrest has something for everyone to enjoy. It's a great mountain for beginner mountaineers because the terrain allows for ample mountaineering skills practice alongside mellow terrain (on the beginner routes) allowing climbers to move at a gentle pace. With this being said it is not an endeavor to be taken lightly; with risk of crevasses, rockfall, and weather, Mount Baker is very much a serious mountain.
In my experience there really isn't any other place that can compare to the varying weather and conditions on Mount Baker. Due to the mountain's position in the far north near the Bay of Bellingham, the coastal effect brings frequent wind, rain, snow, and storms to the mountain. Since it is covered in feet of snow most of the year, the commercial climbing season on Mount Baker runs only from May - September offering a spectrum of whether; in early/late season it's not rare to have a wind chill below - 20 degrees or in contrast during the peak of summer, temperatures can rise to above 85 degrees. The weather on Mount Baker is no joke. That's why layering and understanding your layer system is key for success on Mount Baker!
So, to help you figure out your layers here's a list of my top HIMALI picks for the perfect layers while on Mount Baker:
Depending on the month, base layers can be an essential or just an extra precaution. My go to base layers is the PURSUIT LONG-SLEEVE TECH TEE or the ECLIPSE SUN HOODIE. The Pursuit logo tech tee is great for early and late season (May and September) when it can be extremely cold, and you need a good insulating layer. On the other hand, the Eclipse Sun Hoodie is great for mid-season (June-August) because it is a bit lighter and most importantly doubles as a sun shirt for hot and sunny days on the glacier when you don't want any skin exposed, but you are trying to stay cool.
For mid-layers it's important to have jackets that you are comfortable moving in but will keep you warm. Which is why the LIMITLESS GRID FLEECE HOODIE WITH POLARTEC® is the perfect mid layer for warmth, mobility and comfort while moving on the mountain. However, for windy accents or days that are extra cold I recommend also having a soft shell that keeps you protected while moving which is where the ASCENT STRETCH HOODIE comes into play. With these two mid layers you will stay warm and protected even in the most bone chilling days on Mount Baker.
For the bottom mid layer, I recommend the GUIDE FLEX PANTS, a soft-shell alpine pant that is flexible, warm, and comfortable to use climbing during any time of the season on any kind of terrain.
Outer layers are mostly used only when needed for rain, snow, or extreme precipitation. The MONSOON HARDSHELL is the perfect outer layer for your top garment. It is fully seam taped and uses a specialty 3layer fabric that makes it completely waterproof while staying breathable. I really love that it has an adjustable hood for helmets and high pockets to allow access even with a harness on.
For your bottom outer layer, I recommend the MONSOON HARDSHELL PANTS. It is also fully seam taped & uses a 3layer fabric that makes it completely waterproof while staying breathable. The full-length outer zipper is a great feature because it is the perfect pant to easily zip on over your other layers when the weather gets wild.

When hanging around base camp or taking a break during the climb I'm always excited to throw on my down jacket or parka to feel all warm and cozy. For early and late seasons when it's extra cold I recommend having the ALTITUDE DOWN PARKA to put on over all your other layers. While climbing in cold temperatures it's super important to not lose too much body heat so when you stop moving always put on an extra layer to stay sufficiently warm. During the midseason you can use a slightly less heavy weight down jacket like the PEAK 7 DOWN JACKET (HOODED) to use during down time. I highly recommend getting a down jacket with a hood as it helps keep in heat better when using the jacket.
Whether it's from the cold or the sun I insist that climbers have something to cover your face while climbing on the glacier. My favorite is the HIMALI™ HONEYCOMB GAITER a face and neck buff that is breathable and comfortable to use over your mouth in any temperatures. Our heads are also huge heat escapes for our body which is why on cold days it is extra important to wear a hat under your helmet to keep in as much warmth as possible. The HIMALI™ SKULL CAP is the perfect hat that fits comfortably under a helmet and doesn't restrict movement or visibility like a hood potentially can.
My personal favorite garnet and bonus layer to all my mountaineering layers is a good vest! The FOCUS DOWN VEST is the perfect addition for Mount Baker. Vests in general are an amazing piece of gear because they keep your mid-section warm (the most vital parts of your body) but leave your arms and shoulders free for mobility and help to better regulate your overall body temperature. They can be used under or over almost any upper layer, to help you reach the perfect temperature and range of motion while climbing. Vests are a must for me and make a great bonus layer for any mountaineering outfit!
"...trust in your layering system..."
When you are headed to Mount Baker or any other glaciated peak make sure to have all your layers ready beforehand. Having gear that you trust and works well can change your experience in the mountains (trust me, I learned the hard way). Knowing that you won't have to worry too much about staying comfortable in your own clothes is a game changer when the stakes are high on a glacier. When climbing, the thought that I always have my big down jacket to throw on when conditions get harsh is always comforting. So, if I had to give advice to any first-time mountaineer on Mount Baker it would be to know and trust in your layering system, and of course stay hydrated!