Staff Tips for Winter 14ers

Summiting a Colorado 14er in the Winter is a great way to get ready for a bigger expedition. If you are training for a glaciated climb like Rainer or Baker, or planning an expedition to climb one of the 8,000m peaks like Everest and K2. Climbing a winter 14er is great preparation both mentally and physically. We recommend being very familiar with hiking at altitude during the summer (check out our guide for hiking a summer 14er in the summertime here), winter hiking and/or skiing, and avalanche awareness & safety. As with any expedition, climbing comes with significant risks, including injury and death. It is up to you to obtain proper training and guiding services if necessary. Here are our tips for a successful first attempt at a Winter 14er.
"I trained for climbing Denali by doing laps on Colorado 14ers. It is not easy, but it really helped me to get both my body & mind ready for a bigger expedition" - Dave, Founder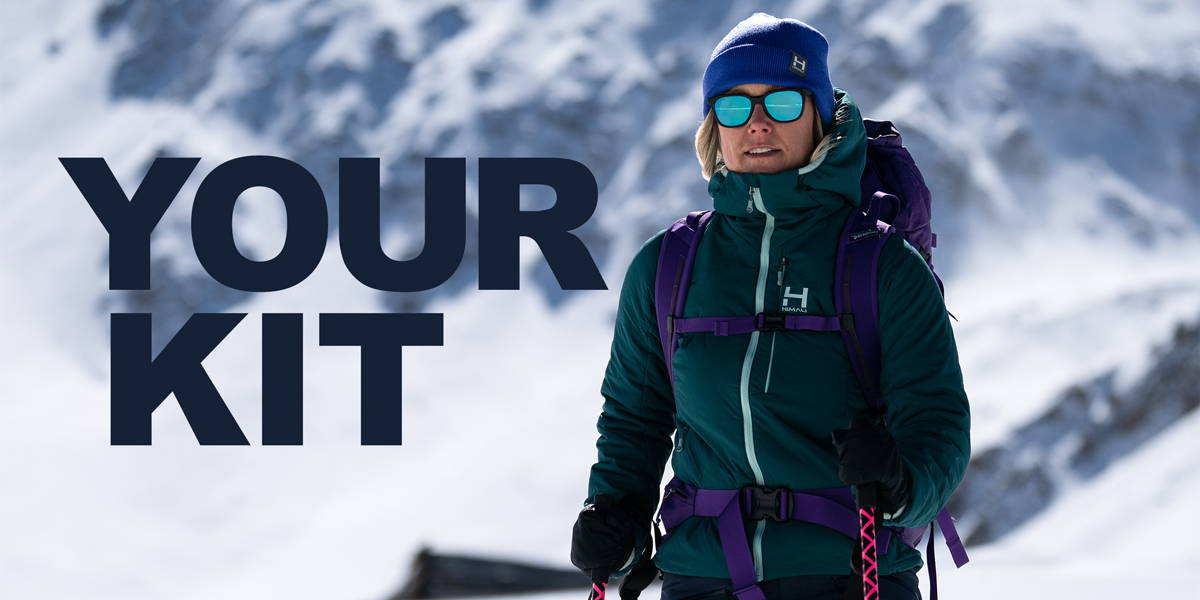 In addition to the recommended Kit for summer, you are going to need additional insulation and protective gear.
The Altitude Parka is great for taking a moment on the summit, or as an extra layer in case of bad weather.
Monsoon Hardshell Pants are fully waterproof & windproof, so they will keep you dry in deep snow and keep you warm when the wind picks up.
Carrying the proper avalanche safety equipment is essential. This includes an avalanche beacon, shovel, and probe. For more resources on avalanche safety & preparedness, head to the bottom of this article.
Something that you can work hard in: light, quick drying, and comfortable.
Something to keep you warm when you take a breather, the temps drop, and the wind kicks up.
Something to keep you protected when the inevitable afternoon thunderstorm rolls in or the wind kicks up.
Safety Equipment & Winter Traction:
Mirospikes and/or crampons and/or snowshoes and/or skis




Avalanche Safety Equipment: Beacon + Probe + Shovel




Headlamp




Light & Heavy Gloves
That keeps you feeling comfortable and confident.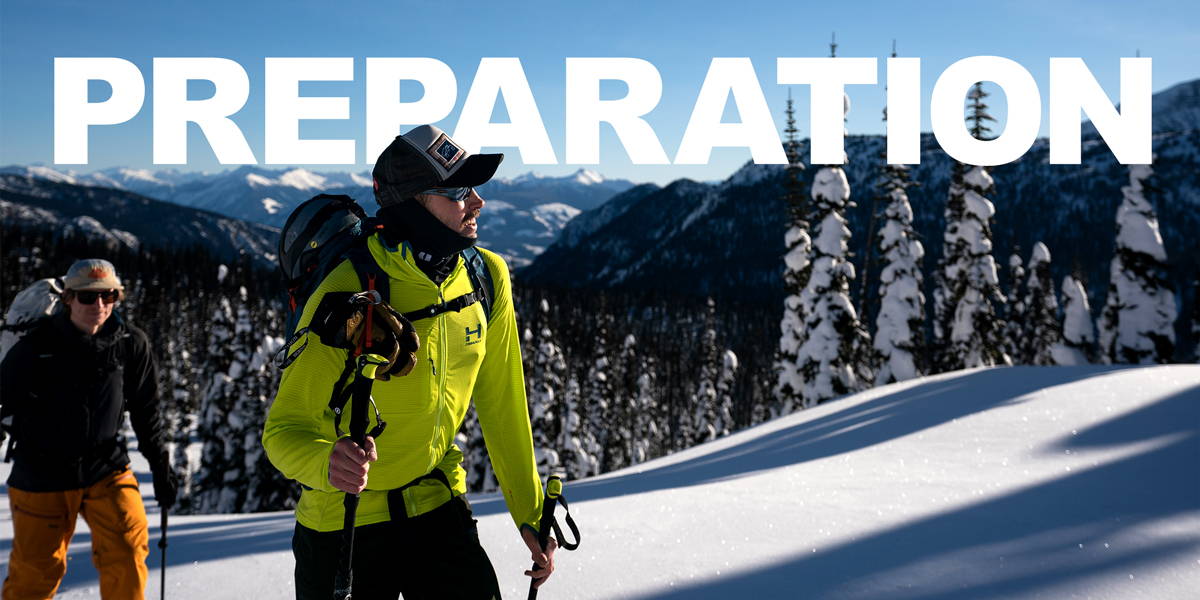 Allow for additional time
Not only does traveling in the snow generally take more time than it would in the summer months, but the long forest service roads that lead to the trailhead are often snowed in and can add several miles to your journey. Be Prepared!
"The first time that I attempted a Winter 14er, I completely underestimated how much additional time I needed. Breaking trail is no joke!" - Claire, Marketing Director
Navigation & understanding the terrain
Navigating a trail can be more difficult in the winter when the trail is covered in snow. It's important to have a map and compass and know how to use them. You may also want to consider bringing a GPS device to help you stay on the trail.
Knowing how to read the terrain is also crucial for avoiding avalanches. Stay away from steep slopes with a slope angle greater than 30 degrees. These are the most likely areas for avalanches to occur. Pay attention to the terrain around you, and look for signs of previous avalanches or unstable snow conditions.
Get the proper education and training
Taking an avalanche safety course is highly recommended for anyone interested in backcountry travel in the winter. These courses will teach you about snowpack analysis, weather patterns, terrain assessment, and rescue techniques. It's important to have a solid understanding of these concepts before heading out into the backcountry. We have several resources listed at the end of this article!
"Taking the AIRE course really helped me feel more confident & prepared to take on planning Winter expeditions. It is a completely different experience than in the summer." - Emily, Customer Support
Know before you go (weather, snowpack, map, emergency preparedness)
The avalanche forecast will give you important information about the current snow conditions, potential avalanche risks, and recommended routes.
Weather conditions in Colorado can be very harsh during the winter months, and it's important to be prepared for anything. You should check the weather forecast before heading out and be prepared for sudden changes in weather. Dress in layers, and make sure to bring warm, waterproof clothing and footwear.
The trail conditions in the winter can be very different from what you would experience during the summer months. Trails may be covered in snow or ice, making them slippery and difficult to navigate. You should consider using crampons or other traction devices (like Microspikes) to help you stay stable on the trail.
Legendary Mountaineer & Mountain Guide Ed Viesturs recommends periodically looking behind you to see what the terrain looks like when you are on your way back down. It can be extremely easy to get lost (especially if the wind picks up or it starts snowing) - so knowing what the terrain looks like is essential.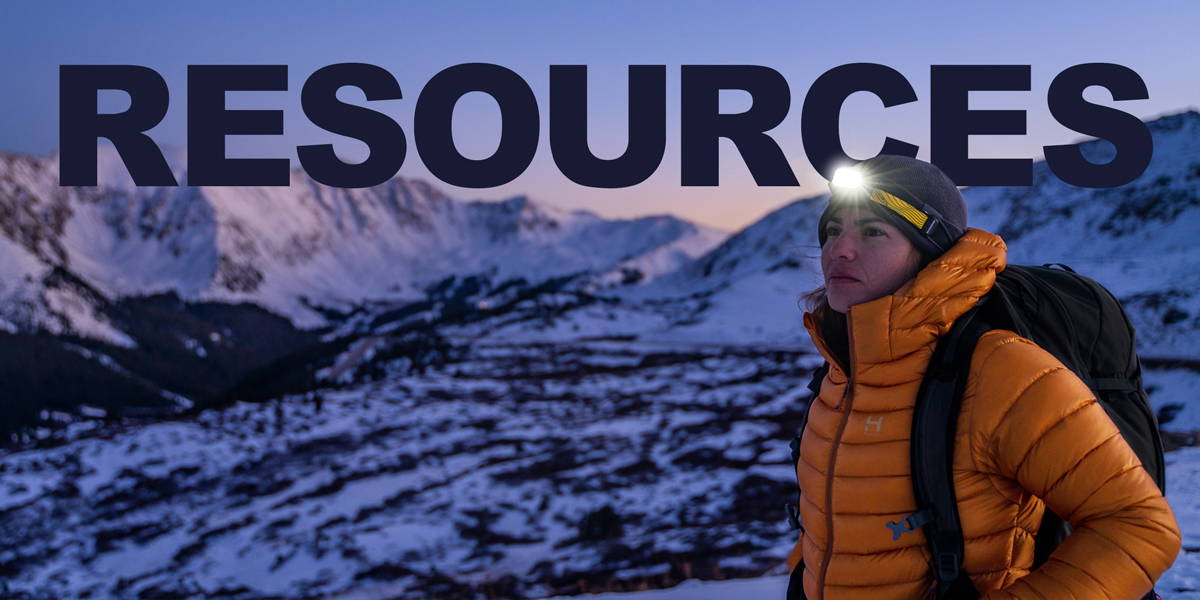 Colorado Avalanche Information Center (CAIC)
The Colorado Avalanche Information Center is the go-to resource for avalanche safety, education, and forecasting in Colorado. The website provides daily avalanche forecasts for different regions of the state, as well as information on snowpack conditions, backcountry travel, and avalanche accidents. The CAIC also offers avalanche education courses and resources for both beginners and experienced backcountry travelers.

American Institute for Avalanche Research and Education (AIARE)
The American Institute for Avalanche Research and Education is a non-profit organization that offers avalanche education courses for both recreational backcountry travelers and professionals. The website provides information on AIARE courses, as well as resources on avalanche safety and awareness.

National Weather Service (NWS)
The National Weather Service provides weather forecasts and warnings for different regions of the country, including Colorado. The website offers detailed information on current weather conditions, as well as alerts for potential weather hazards, such as snowstorms or high winds.
Colorado Mountain Club (CMC)
The Colorado Mountain Club is a non-profit organization that offers educational programs and resources for outdoor enthusiasts in Colorado. The website provides information on CMC courses, as well as resources on avalanche safety, hiking, and backcountry travel.

Friends of CAIC is a non-profit organization that supports the Colorado Avalanche Information Center through fundraising and education efforts. The website provides information on avalanche awareness, as well as resources on how to support the CAIC.