What happens during a season
at the highest medical pop-up on Earth?

With increasing numbers of ambitious mountaineers flocking to the Himalaya to summit Everest each year, the need for accessible and high quality medical care has become more important than ever. Rescue missions are dangerous for all parties involved, but rapid access to medical assistance regularly saves lives. Due to the high altitude and weather, helicopters can only access the mountains in the daylight and good weather windows, further highlighting the need for nearby healthcare. Enter Everest ER: a volunteer run, nonprofit, seasonal medical outpost residing at Everest Base Camp.
The founder of Everest ER, Dr. Luanne Freer, got her start in this region volunteering at the Nepali/USA Himalayan Rescue Association (HRA) Pheriche Aid Post in 2002. While volunteering at the HRA's Pheriche Aid Post in 2002, Luanne recognized that there was a need for formal medical assessment and care at Everest Base Camp. She established Everest ER the next year with a mission to provide compassionate high quality healthcare and preventative education to the climbing community, their support staff and the trekking-thru public in Everest Base Camp, using proceeds to subsidize care for the indigenous people of Nepal.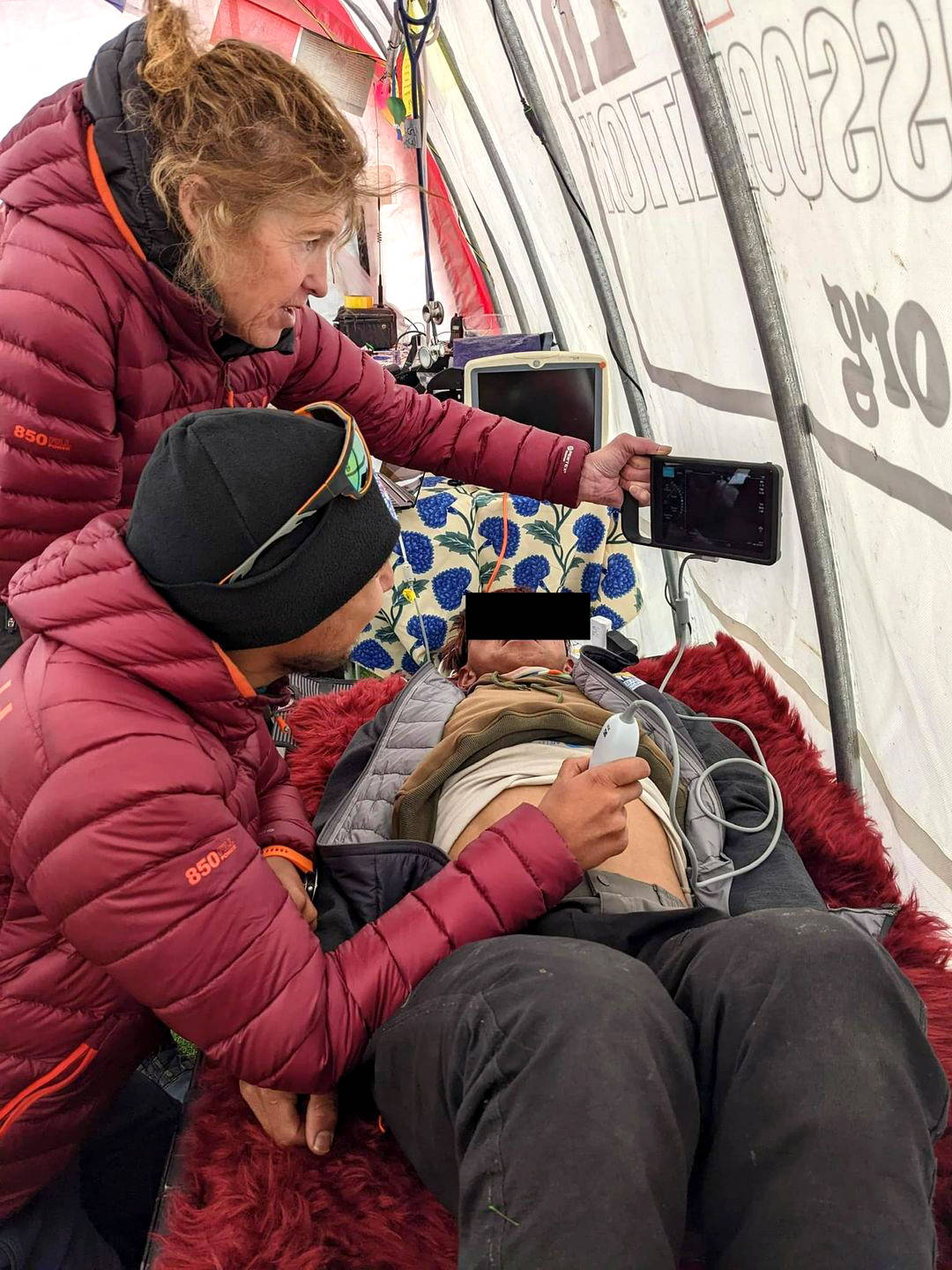 Dr. Luanne Freer with patient at Everest ER.
Thanks to the Nepali/USA Himalayan Rescue Association (HRA), Dr. Luanne Freer and others, affordable and expert wilderness medical aid has been available at the Everest Base Camp for the past 19 years. Everest ER operates each year during the spring climbing season, and is staffed by local & international volunteer medical professionals united to serve the climbing & Nepali communities. The demands placed on this team are unique - and every year, the deaths of climbers on Everest and the other 8000m peaks are increasingly broadcast to the collective horror of armchair critics world-wide. What is not as regularly announced are the deaths of trekkers, still at high altitude but without plans for a summit bid.

2022 Everest ER medical team.
We were lucky enough to get to speak with Dr Brent Systermans, an Everest ER Volunteer, about his time and experiences working at Everest ER in 2018. He describes some experiences that stand out to him below:
"What soon became evident at Everest, is that we had a different type of patient than at Pheriche. The trekkers at Pheriche tended to be in a rush or it might have been their first trip to Nepal as well as to altitude or it might even be their first multi-day trek. As a result of the trekker's inexperience, we saw a lot more altitude related illnesses at Pheriche than we do at Everest ER. The climbers at Everest are in it for the long game. Generally more experienced at altitude, they don't rush their acclimatization; taking their time and avoiding altitude illness at the early stage of their climb.
During the 2017 season, there were as many trekkers who died from altitude related illnesses in the Khumbu Valley as there were Mountaineers who died from various reasons on the slopes of Everest. During one trip to our favorite bakery in the neighboring village of Dingboche, we learned that a trekker staying in Dingboche with clear signs of suffering from HAPE (High-Altitude Pulmonary Edema) had refused to pay for transport (4 villagers and a stretcher) to Pheriche for life saving treatment. He was found dead in his tea house bedroom the following morning, all for the sake of saving one thousand rupees.
What we do see more of at Everest ER than Pheriche are cold injuries such as frostbite and trauma from slips and falls as climbers make their way through the ice fall. In 2018 we saw over 20 cases of frostbite, generally fingers, but also toes. We saw a number of cases of "jumar finger;" isolated frostbite of the little finger of the dominant hand. Due to bulky gloves, quite often a climber's little finger can't fit into the handle of the jumar (or ascender as they are also known). This places increased pressure on the little finger as it presses against the outside of the jumar predisposing it to developing frostbite. We also saw frostbitten toes from ill fitting boots. There were a number of climbers who had not been to an 8000m peak for 5+ years and had returned with high altitude boots which no longer fitted their feet properly."
This high altitude ER is seen as a medical marvel for its ability to deliver aid in one of the most inhospitable of environments.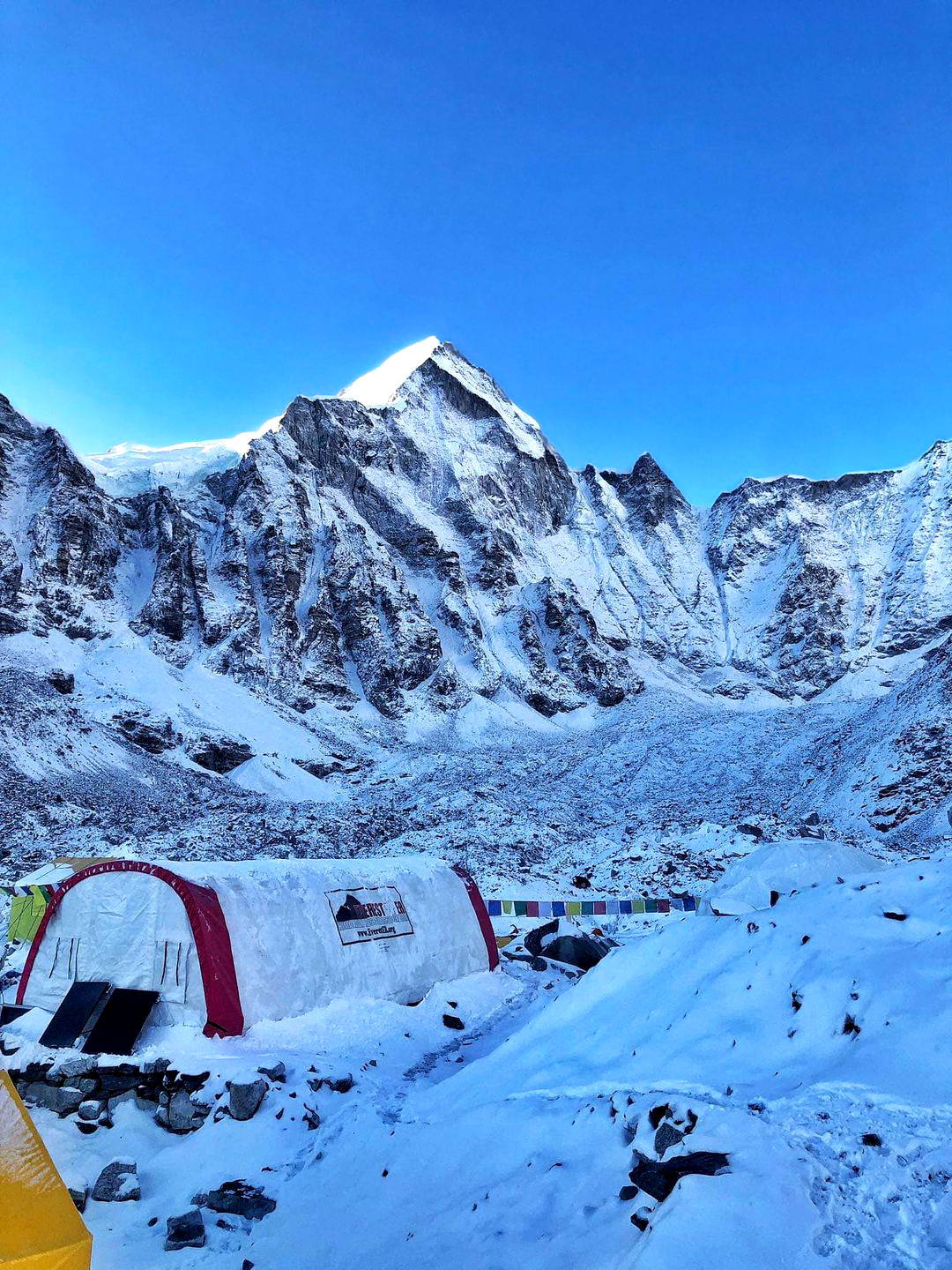 Everest ER tent at Everest base camp.
"Fifty years ago, if someone sustained frostbite on their fingers and toes, a doctor would amputate. Mountaineers would amputate their flesh in the mountains because they were afraid of dying of gangrene. We've come to understand frostbite as small blood clots and we can use medication to open the blood vessels and dissolve the blood clots and restore more of the tissue. This treatment is time sensitive and usually needs to be delivered within 24 - 48 hrs of thawing." - Dr. Luanne Freer
Despite the obvious difficulties in establishing consistent healthcare in such a high altitude, Everest ER has been incredibly successful since its inception in 2003. In the past 19 seasons there are an average of 500 visits to the ER in the span of the 2 month spring climbing season. The majority of patients seeking aid at the tent present with symptoms of upper respiratory tract infections, high altitude cough, gastritis/acid reflux, musculoskeletal issues, skin issues/skin trauma, acute mountain sickness, HAPE, gastroenteritis, pneumonia/lower respiratory tract infections, & frostnip/frostbite (listed from most to least common). Surprised that GI (gastro intestinal) issues were so common?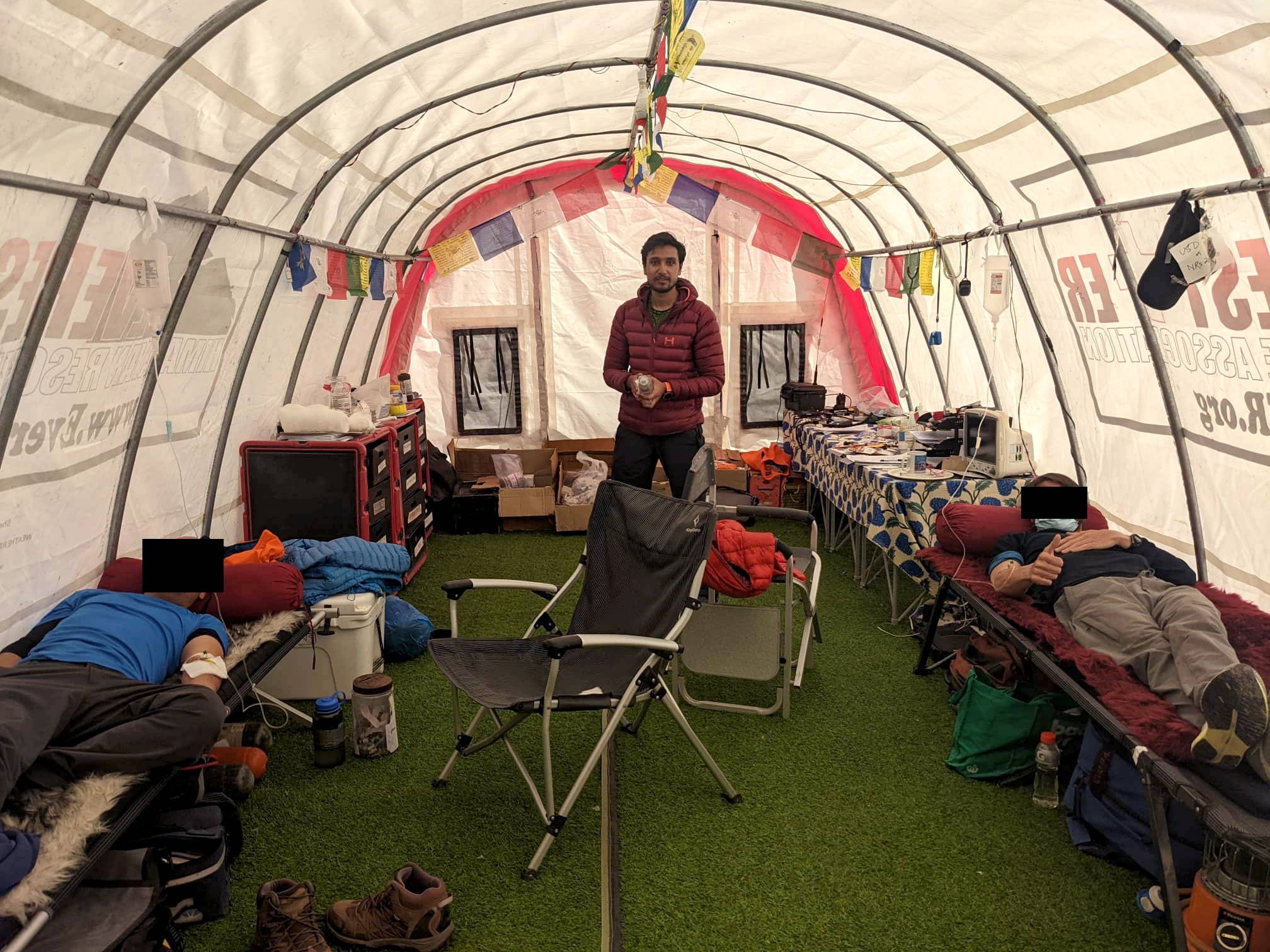 Everest ER Dr. Pat at work.
Dr. Luanne Freer explains:
"In the past several decades, we've learned there is this steal that goes on in your body at extreme altitude. Your muscles and brain need oxygen and blood, so they steal it from lower-priority organs like the lining of the stomach and the intestines. That's why we see a lot of people with ulcers or gastritis. Their gut is getting the short shrift. Eating simple carbohydrates requires less energy and blood flow to digest."
Dr Freer's efforts in creating Everest ER are not only a way to keep those at high altitude safe, but also as a way to give back to the Nepali Community in the form of free or very low cost and accessible healthcare - around 60% of all the ER patients are Sherpas and Nepali people. This high altitude ER, alongside clinics funded by the HRA charge relatively wealthy foreign trekkers and climbers a reasonable fee for care, using proceeds to subsidize care for the locals. Now that's something we can get behind!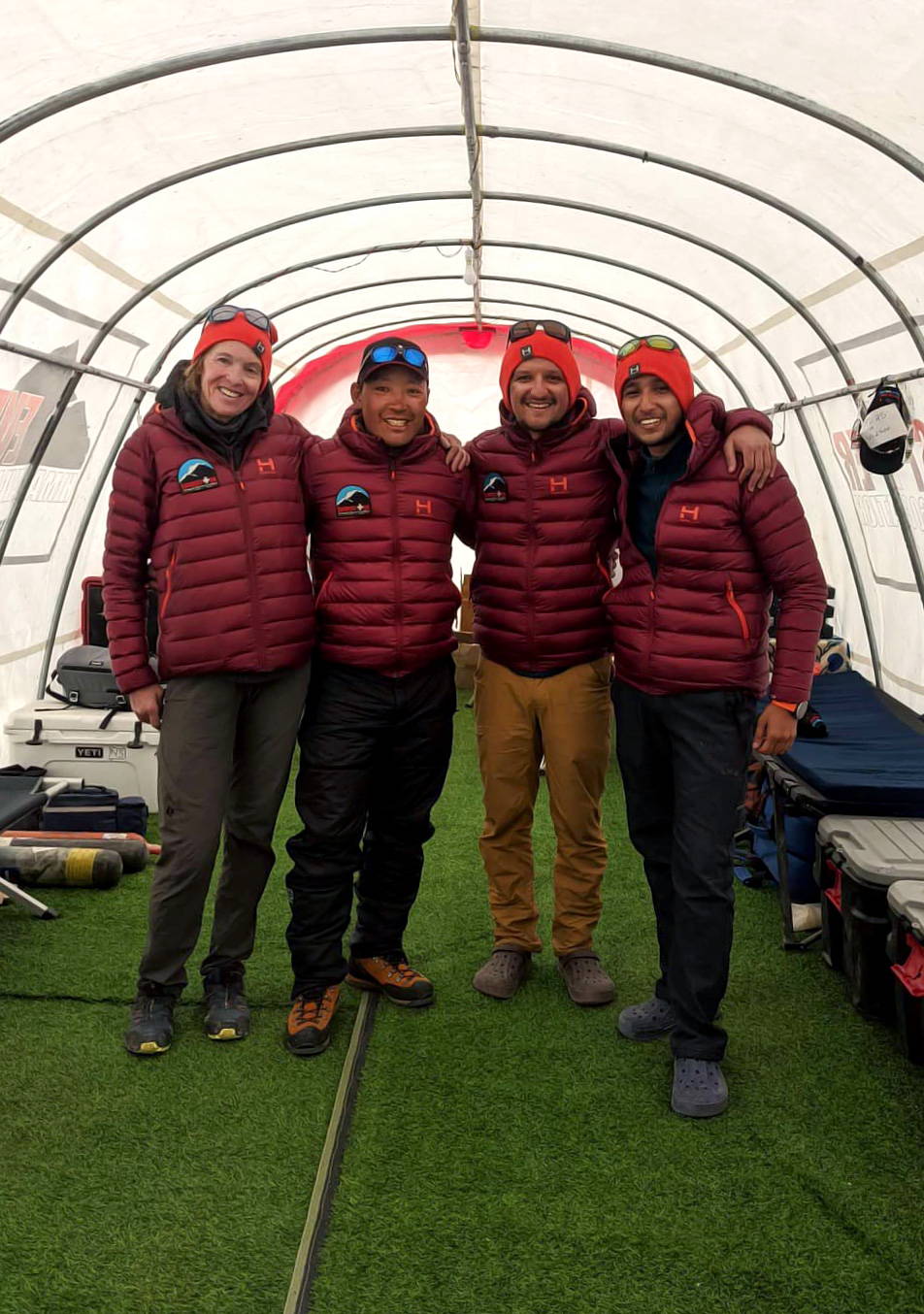 2022 Everest ER medical team.
Specific shout out to Dr. Luanne Freer & Dr. Brenton Systermans for their help with this article.