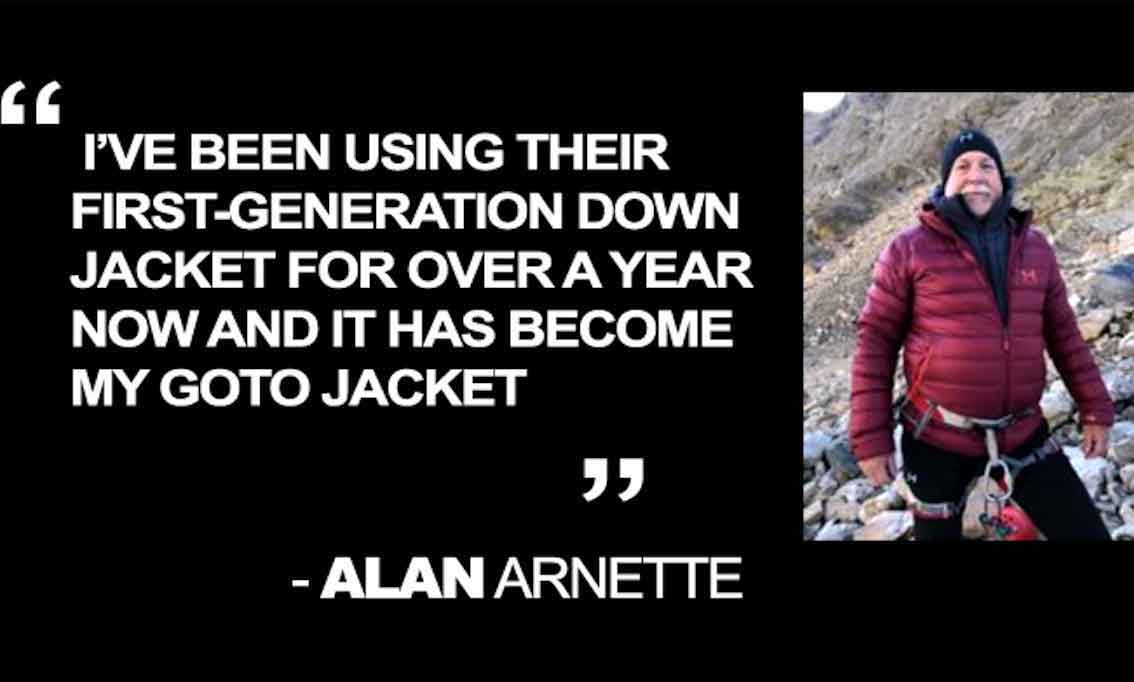 Want to see more from Alan's Blog? CLICK HERE. Otherwise, continue reading below.
How often does a new company enter the highly competitive market for quality outdoor jackets and clothing … and succeed? Well, Boulder, Colorado-based HIMALI has done just that and judging by their second-generation line, they are excelling.
Full disclosure, company founders Dave Schaeffer and Tendi Sherpa provided at no charge all the gear I have used for evaluation. I've been using their first-generation down jacket for over a year now and it has become my goto jacket here in Colorado, on Nepal's Island Peak last October and this year in Ecuador and Bolivia.
The second-generation is full of small improvements and maintains the quality and durability of its' predecessor. Here I am on a crisp October day in Colorado's Rocky Mountain Park about to climb the 2nd of the Ptarmigan Fingers next to the Tyndall Glacier.
A quick list of features that I find well designed and implemented include large, large pockets that are strong and suitable for almost anything you need outside your pack, well-sized and fitted hoods for helmets, very strong exterior materials and easy, reliable zippers.
Now for a quick rundown on the new products I've been using for a month or so.
This is my go-to down jacket. One of my favorite features is that you will never lose the stuff sack, it's sewn into an outer pocket! The outer material is Pertex® Quantum ripstop nylon that is truly durable. It's filled with 4.5 ounces of 850 Hyper DRY® down meaning you don't have to worry as much if the jacket gets damp from sweat or wet snowfall as it will maintain its warmth. As for the tiny improvements, they include a bit of fleece around the section of the jacket, when fully zipped, that softy touches your mouth and a tiny "zipper garage", again when fully zipped, keeps the end from poking you. These details show that Dave and Tendi are paying attention to climber's needs. It retails for $294.95. It also comes in a nonhooded option.
This jacket is a step-up in terms of fill weight. It shares many of the same features as it's little brother, the Altocumulus but is twice as warm with 8 ounces of down fill for those extra cold and windy days up high. One nice addition is the fleece-lined front pockets. Overall this is a solid piece that will do the job when called upon. It retails for $394.95.
The Ascent Stretch Hoodie is a synthetic insulation layer filled with 100g of Primaloft® Gold Active+ Insulation wrapped in a Toray® Primeflex Nylon Stretch Shell. This makes it one of the most insulated softshells on the market and thus one of the warmest. This piece meets the needs for warmth on a coldish day even in a brisk wind. They say it repels a decent rain but I haven't tested that. It's a bit bulky but wears well underneath with one the HIMALI down jackets. I wore it on an ice climb recently and was very pleased. It retails for $249.95. It also comes in a nonhooded option.
While these pants are only available through their outlet store, for now, I highly recommend them. I wore them on my recent ice climb and now they are my goto winter to shoulder-season pair. They are made of spandex and nylon resulting in a 4-way stretch softshell layer that are incredibly lightweight yet warm and wind-resistant. They excel at repelling water yet breathe well. There are bottom zippers for boot access and an integrated belt tension system to allow you to get the right fit. Overall a great pair of pants.
Time to get to know Dave and Tendi with an interview we just completed.
Q: Let's start with the people behind HIMALI, Dave and Tendi. Many people know Tendi Sherpa as a 13-time Everest summiteer and IFMGA climbing guide. They may not know he is the Executive Director of TAGnepal Treks & Expedition, leads the Nepal operation for Swiss-based Audan Trekking and is a key leader for the US-based guide company, Climbing the Seven Summits. Tendi, what drives your love of climbing?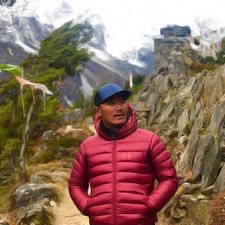 Tendi: I really love climbing because it's simply a tradition for me. I have grown up in the mountains and have worked in the mountains for many years. Nowadays I simply feel that the mountains are like my home and climbers are like family members. The mountains have given me so much in my life, pleasure, a living, friends and introduced me to the world.