HIMALI™ athlete, David Roeske summited K2 on July 25, 2019, without the aid of supplemental oxygen - it is thought to be a record-breaking expedition time of just 19 days. This achievement marks the alpinist's fourth 8000-meter peak summit without bottled oxygen.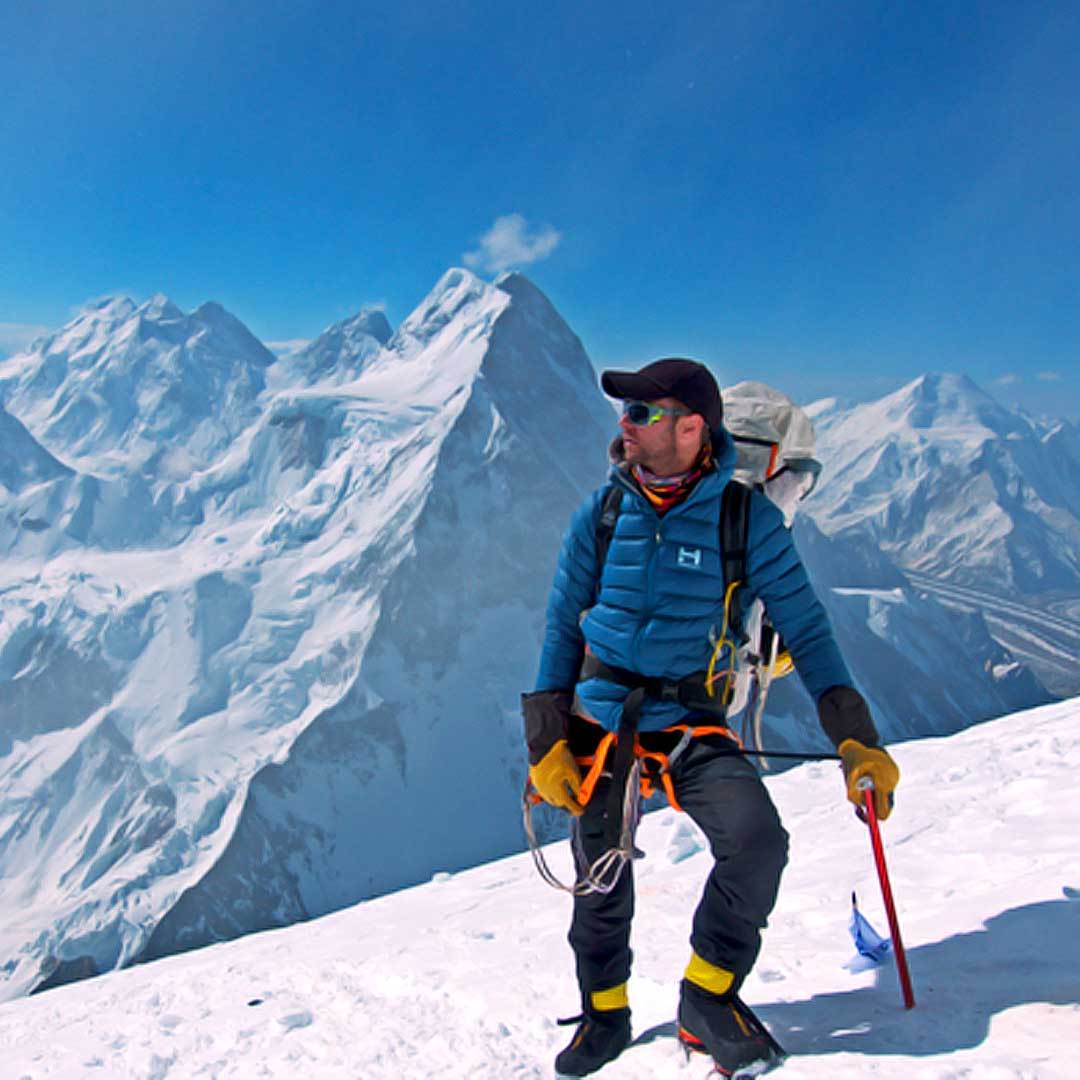 Roeske successfully summited K2 a little over 12 months after unexpected events in July 2018 thwarted his first attempt. During his first expedition to the mountain, Roeske delayed his K2 summit attempt in order to help save the life of British climber, Rick Allen. Allen was lost on neighboring mountain, Broad Peak, the world's twelfth highest mountain. Roeske and his Swedish climbing partner, Fredrik Sträng, were beginning a summit attempt on Broad Peak when they heard news of Allen's situation and, as the closest climbers to him on the mountain, dropped their summit bid to locate Allen. The two ultimately found him and with the assistance of another team, helped him off the mountain.
"The main reason we didn't summit K2 last year was timing," said Roeske. "The rescue delayed our summit on Broad Peak by a week, and when we finally got down it was only a few days before the K2 weather window. After resting a few days, Fredrik and I saw that the weather window was closing, and tried to get up the mountain in time, but we were too late, and it started to storm as we were between camp 2 and 3. I knew going in that with Pakistan's notoriously bad weather, we were rolling the dice trying to get both summits, but it was worth trying."
One year later, Roeske was nearly beaten by outside circumstances once again. Many teams canceled their attempts on K2 after encountering unstable snow conditions above "The Bottleneck", a dangerous, narrow couloir through which they must pass en route to the summit. Roeske remained along with a few other experienced climbers for a second attempt. They planned to wait for the next weather window and climb back up the mountain to see whether the snow had consolidated beyond The Bottleneck, or was still avalanche prone.

"I was very fortunate to be in position when the mountain briefly opened up about a week later," explains Roeske. "Once again, it was a short window. A few hours after I summited, storms rolled in and began dumping snow for days on the upper mountain, effectively ending the season."
Typically the climb takes around two months, with many climbers using supplemental oxygen, but Roeske was able to complete his expedition in just 19 days, without the additional oxygen. After arriving at base camp on July 6th, summiting on the 25th, and descending to base camp on the same day, he has likely set a new time record in doing so without supplemental oxygen, but records of K2 summits are poorly kept and so this has not been confirmed.
In 2016, Roeske became only the fourth person to successfully climb Mount Everest and another Himalayan 8000-meter peak, Cho Oyu, without supplemental oxygen, in the same season. But even though Roeske has successfully climbed Everest without supplemental oxygen, he admits there is never any guarantee that a person's body will meet the challenge again.
"Every no-oxygen summit attempt is a one-step-at-a-time process," explains Roeske. "I'm constantly checking my body's condition to assess whether I am safe to continue another few minutes, and I don't know the ultimate answer until I'm nearly at the summit."
"Compared with my Everest ascent, my mind felt clearer this time, so I was less worried about hypoxia and High Altitude Cerebral Edema (HACE). But my chest did feel somewhat tight, and I had a high-altitude cough, so I was very mindful of the risk for High Altitude Pulmonary Edema (HAPE). Luckily, neither HACE nor HAPE developed and eventually, my slow steps brought me to the summit."
Altitude sickness can set in at heights from 2,500 meters. Without supplemental oxygen, severe altitude sickness and even death is likely to occur at 8,000 meters. At 8,611 meters above sea level, K2 in Pakistan is the second-highest mountain in the world after Mount Everest.
"K2 absolutely lives up to its reputation as an incredibly hard and dangerous mountain," the climber concludes. "A huge amount of luck goes into any successful summit, and I was incredibly fortunate the stars aligned for me this year. Part of the reason people climb is for an encounter with the unknown. I'm so glad I persevered to find out whether the mountain would say yes to me this year."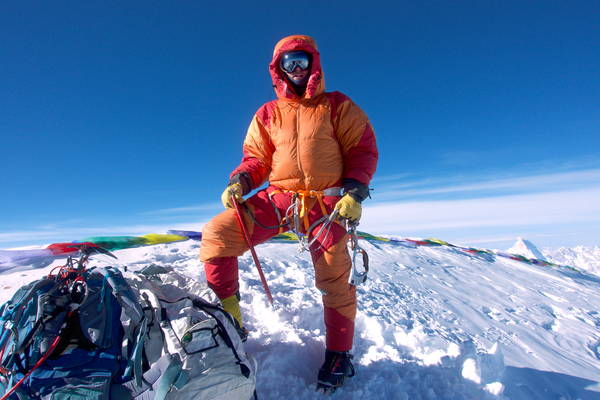 K2 Summit - July 25th, 2019 - Photo by David Roeske