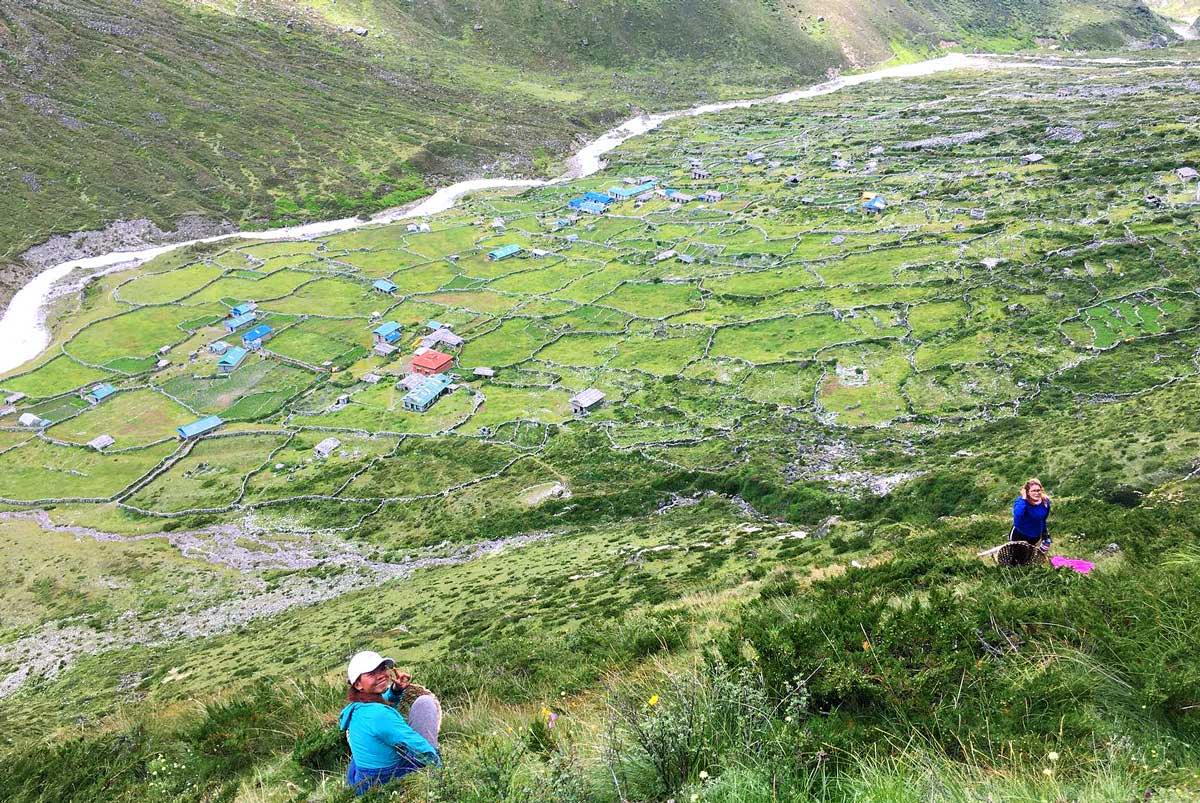 Rolwaling, Northeast Nepal.
Rolwaling is a rural valley village surrounded by mountains in Northeast Nepal. It sits at an elevation of 4,200m (13,779ft) and is surrounded by steep cliffs that are both stunning and brutal. These geographic features help to shape the people that live there, and may have contributed to its legacy status in the mountaineering community. This small farming community of Rolwaling is home to 15 Certified IFMGA guides and 60 Everest summiteers - a high count even among Sherpa communities in Nepal.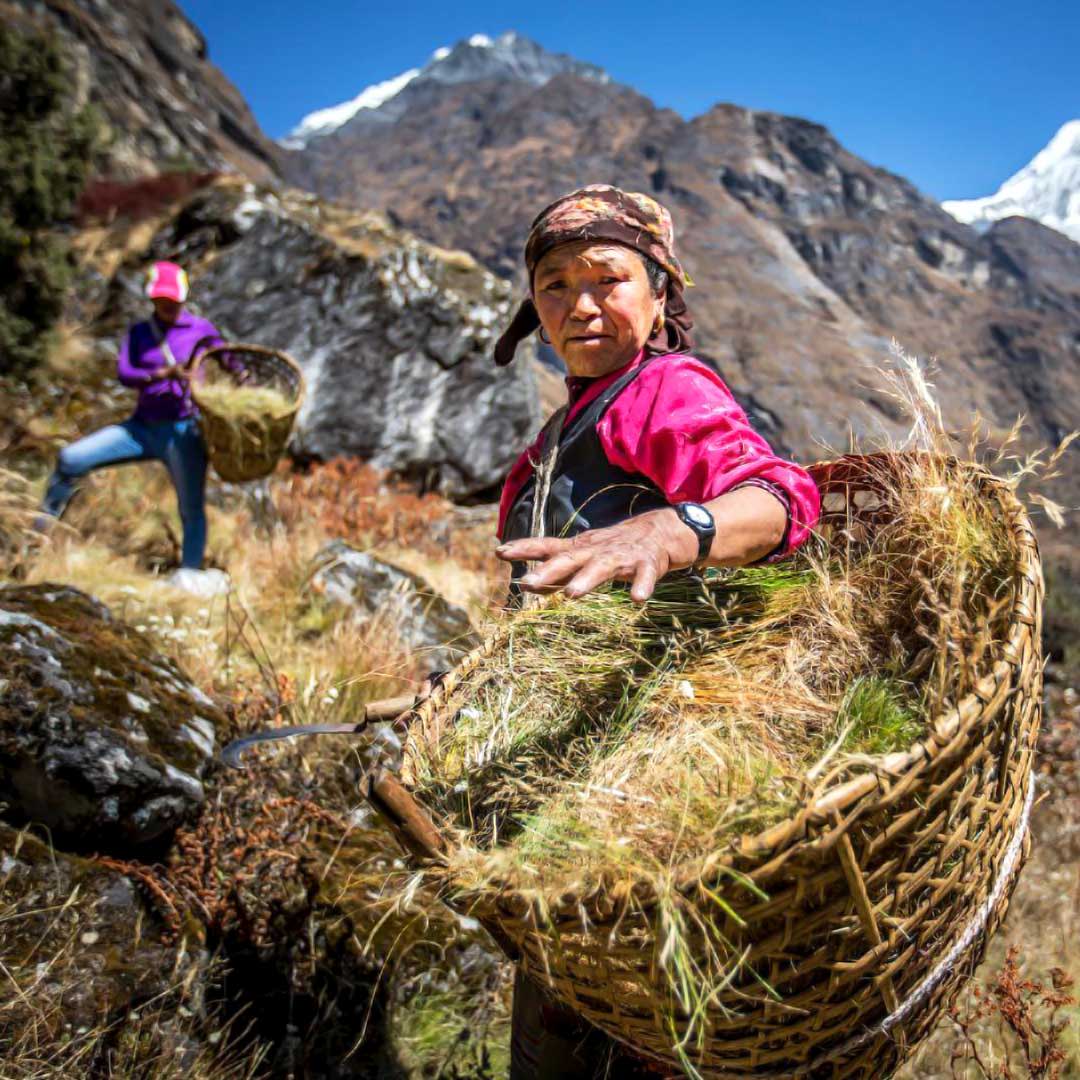 Rinzin Doma Sherpa (mom) & Jangmu in the background
Even among Rolwaling families, there is one set of siblings that stands out in terms of their accomplishments, their ambition, and their love of their community.
Not only has their brother, Mingma G Sherpa 'brought it to the next level' with his Winter K2 summit - but these three sisters, Nima Jangmu Sherpa, Tshering Namgya Sherpa, and Dawa Futi Sherpa, have their own big ambitions of being the first 3 Nepali Women from the same family to stand atop the highest peak in each continent.
They are starting their journey by climbing to the Summit of Everest this Spring 2021. You can click on the photos below to learn more about each one of the three sisters.
Nima started mountaineering in 2017 with a summit of Mt Amadablam - a stunning and technical 6,000m peak in the Everest region of the Himalaya. The very next year, she became the only woman to have climbed Nepal's 3 highest mountains in a single season. In fact, she completed Everest, Lhotse, and Kanchenjunga in less than 25 days and will likely be a longtime record holder.
In addition to the 3 sisters 7 summits project, Jangmu is planning a speed ascent on Everest, going from base camp to the summit in less than 24hrs.
She is the eldest sister in the team - but at only 30 years of age Jangmu has a bright future in mountaineering. She is well trained in rock climbing and Basic Mountain Rescue under NIMA.
As of March 2021 she is the newest addition to the HIMALI™ Pro Team!
Tshering Namgya Sherpa
Currently working towards attaining her Bachelors degree Business study at Reliance collage, she has successfully climbed two 6,000m peaks, Mt Thorong and Mt Lobuche, in preparation for Everest 2021.
Dawa Futi Sherpa
The youngest of the three sisters, Dawa successfully summited Mt Amadablam in 2019, just a few years after Jangmu. She has taken the rock climbing and Basic Mountain Rescue courses under NIMA as well as the Basic Ice climbing Course organized by @khumbuclimbingcenter
Dawa is also currently studying for her Bachelors degree Business at Reliance collage.
Her 2020 Everest aspirations were put on hold due to the pandemic, so she is extra excited for the 2021 attempts with the 3 sisters 7 summits project.
Khumbu Icefall - Everest - Nepal 2021
"Everest has never been climbed by 3 sisters from the same family and we are planning on the project in Spring 2021. We 3 sisters, Nima Jangmu Sherpa, Tshering Namgya Sherpa and Dawa Futi Sherpa are taking this opportunity to make the women climbing community proud. We know to fight for our right fulfilling our duties. This is fighting against ourselves and this is fighting against women who think they are not capable of dreaming big and doing big. If we can encourage other women to dream big and fight for it, we will feel we succeed." - Jangmu Sherpa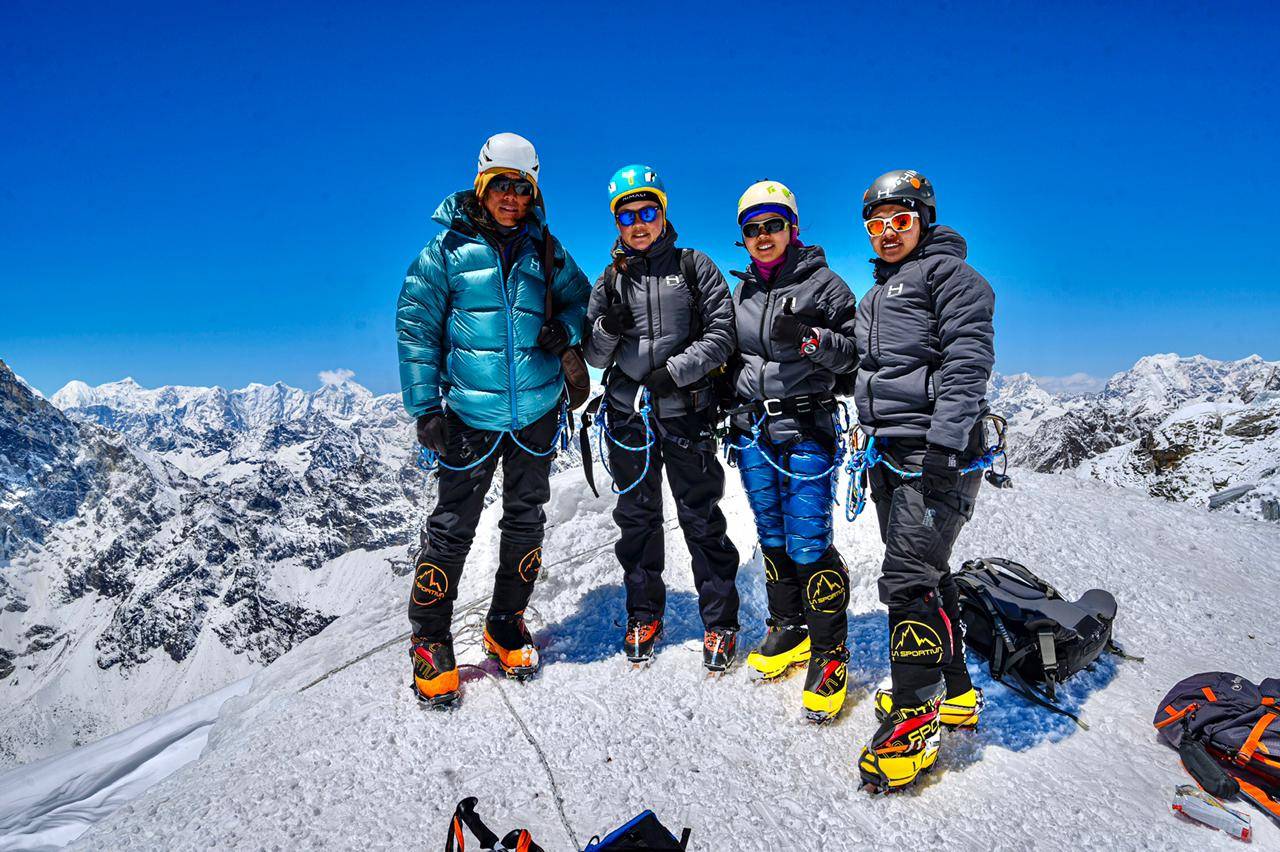 (From Left) Oldest Brother Mingma G Sherpa, Nima Jangmu Sherpa, Tshering Namgya Sherpa, Dawa Futi Sherpa